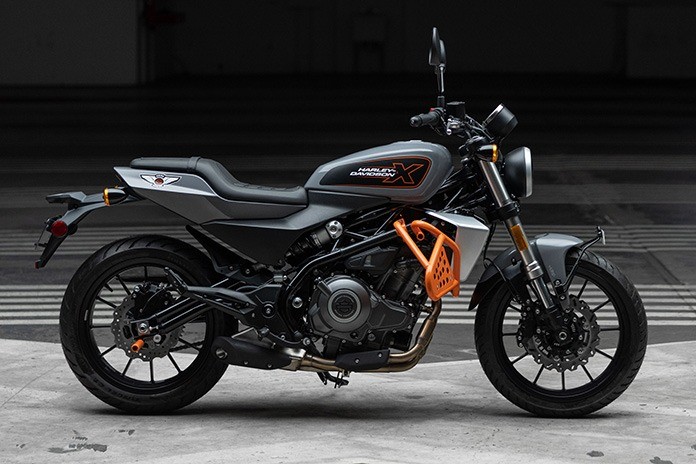 A new small-displacement Harley-Davidson is coming to a dealer near you. However, you won't be able to buy one. The street-tracker-styled bike will only be available in the U.S. as part of Harley's Riding Academy schools as the Harley-Davidson X350RA, but the X350 is being offered in Asian markets. What still remains a mystery are details about the X500, another QJ Motor collaboration we know is in the works.
We've been teasing at the X350 for a couple months now. As we reported in January, the bike mirrors much of the Benelli 302S, a brand that has been owned for several years by Chinese manufacturer Qianjiang Motors. But visually speaking, the X350 is clearly inspired by the MoCo's XR750 flat-tracker. What was unknown earlier in the year is whether the bike would be made available to American consumers – regardless of whether they deemed it heresy or not.
That was answered at the beginning of February when Harley announced its fourth quarter and year-end 2022 earnings. As part of the slideshow presentation, company reps stated the Mo-Co will "continue to develop and maintain a productive relationship with Zhejiang Qianjiang Motorcycle Group Co., Ltd., and launch related products in a timely manner."
"Over the course of '22," H-D CEO Jochen Zeitz added in the conference call, "we finalized the launch of our new Riding Academy bike, the 350RA. This bike will replace the sunsetted Street 500 and will breathe new life into our Riding Academy program." Zeitz went on to confirm the bike won't be available for purchase by consumers in the U.S.
However, the X350 will be available in China, officially unveiled there on March 10. Zeitz cited strong growth for H-D in the Asia Pacific region. Another slide in the presentation showed 12% growth in retail motorcycle sales in the region over the previous year and 12% decline in North America. Japan was the MoCo's second-largest market, and China reported its highest volume ever.
The X350 is powered by a liquid-cooled, 8-valve parallel-Twin engine. It displaces 353cc by using a 70.5mm bore rather than the Benelli's 65.0mm hole; stroke remains 45.2mm. Power is rated at 36 hp and 22.9 lb-ft. at 7,000 rpm, but the engine in the RA has been tuned down to just 23 hp to make it more manageable on the Riding Academy parking-lot courses.
The X350 boasts styling cues reminiscent of the XR750 flat-tracker, from its 3.6-gal tank to its seat and tail. The X350's steel trellis frame sets the wheels 55.5 inches apart, and suspension is provided by a 41mm inverted fork with rebound adjustment and a single rear monoshock that is preload and rebound adjustable.
The steering's rake angle is a middle-of-the-road 24.8 degrees with a generous 5.5 inches of trail. Stopping power comes from dual 4-piston calipers biting petal-style front discs and a single-piston caliper and disc in the rear. ABS is standard.
The seat height of the Chinese-market bike is listed at a fairly tall 32.2 inches, but the RA's seat height is more than 2 inches lower at 30 inches. Mid-mount footpegs provide a purported 51-degree lean angle before they drag, a bountiful angle of dangle. The X350 also has full LED lighting.
The X350RA has already arrived at several U.S. dealers. Aside from its deficit of ponies and lowered height, it differs from the Chinese-market X350 by including an encompassing protection kit that will reduce damage in case students tip them over, adding 10 lb to the home-market bike's 430 lb. The RA's Pirelli Angel CT tires in a 110/70-ZR17 and 150/60-ZR17 combo are 10mm narrower than the Maxxis rubber fitted to the X350 to deliver extra agility for student riders.
As mentioned, we're still unsure what will become of the X500 we were expecting to hear about by now. That bike shares an engine and chassis with the Benelli Leoncino 500, including its 500cc parallel-Twin engine said to produce 47 hp and a 99-mph top speed. When asked for details, our Harley-Davidson rep trotted out the familiar "We don't comment on future product" statement.
Harley-Davidson X350RA (X350) Specs
Engine Type
Liquid-cooled, eight-valve Parallel-Twin
Displacement
353cc
Bore x Stroke
70.5mm x 45.2mm
Compression Ratio
11.9:1
Fuel System
Electronic Air Intake Fuel Injection (ESPFI)
Exhaust
2-into-1
Horsepower
23 hp (36 hp)
Torque
22.9 lb-ft at 7,000 rpm (claimed)
Main Drive
Chain, 31/82
Gear Ratios
1st – 3.167
2nd – 2.056
3rd – 1.556
4th – 1.333
5th – 1.19
6th – 1
Front Suspension
41mm inverted, rebound adjustable
Rear Suspension
Monoshock with adjustable rebound damping and preload
Front Brake
Twin fixed 4-piston calipers, TKmm disc
Rear Brake
Sliding single-piston caliper, TKmm disc
Front Wheel
Cast aluminum
Rear Wheel
Cast aluminum
Front Tire
110/70-ZR17/58W (120/70-ZR17/58W)
Rear Tire
150/60-ZR17/69W (160/60-ZR17/69W)
Lighting
All LED
Instrumentation
Analog with digital display for speed, trip duration and time, dual tripmeters, Km/Mile Indication
Ground Clearance
7.3 in.
Rake
24.8 degrees
Trail
5.5 in.
Length
83.1 in.
Wheelbase
55.5 in.
Seat Height
30.0 in. (32.2 in.)
Fuel Capacity
3.6 gal.
Oil Capacity (With Filter)
0.8 gal.
Maximum Lean Angle
51 degrees left, 52 degrees right
Fuel Economy
47.5 mpg (claimed)
Curb Weight (with 90% fuel)
440 lb (claimed) (430 lb claimed)